Why buy Views in finalized Lives and Premiered videos YouTube?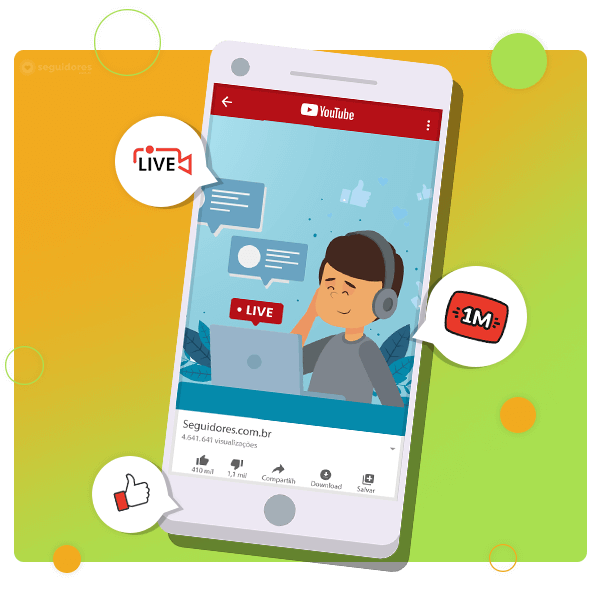 Buying previews for previews, lives already finished will make your videos stand out more and more in the ranking of Youtube and Google.
So the chances of you getting more subscribers, likes and popularity increase a lot.
By purchasing YouTube views, you will have a channel with greater credibility to close more partnerships and grow faster.
High Quality Youtube Premiere Views/ Live <br> finished
Millions of Youtube Premiere Views/ Live <br> finished Delivered
What is the YouTube Live Views and Premiere service?
This is a PREMIUM viewing service that can also be performed on videos premiered on Youtube (Premiered Videos).
Used by those who create many videos and need to schedule their posting and also for LIVEs already finished.
Buying high retention views on Youtube by Seguidores.com.br.br is easy and will not take more than 5 minutes.
Just fill in the name of your Youtube channel and select the desired videos via thumbnails.
The video must be unrestricted and in public mode.
Who Buys Youtube Premiered and Live Views?
🌟 Influencers
🛍 Stores
🎬 Actors
⚽️ Athletes
🎸 Bands
🏋️‍♀️ Fitness
📸 Photographers
💼 Lawyers
🍔 Nutritionists
👩🏻 Anyone...
Buy Visualizações for Youtube: Frequently asked questions
A YouTube channel must have views to grow and become relevant.

Publishing too many videos is often not enough.

Therefore, to get YouTube views you can consider planning a paid campaign, as it will be a great support for your channel in the beginning.

Starting with a decent number of views and subscribers will help you follow the path of success as a youtuber.

It will be easier to close partnerships by having high numbers of views on your YouTube videos.

What besides contracts with brands that will pay you to talk about them, you can also close partnerships with other channels in the same niche in order to be able to exchange subscribers between them.

Improve your ranking in searches, both internal YouTube search and search engines like Google, Yahoo, Bing, etc. As YouTube is a subsidiary of Google, a video or content is easily ranked and gaining more visibility by users who search for your content.

Videos with the most views on Youtube will always get a better position.

In 2020 the lives became something revolutionary in the middle of entertainment. Based on the difficulties imposed by the pandemic, the artistic environment as a whole used this tool to innovate the market. Moving millions of views, the lives attracted many investments and successful partnerships, which opened new ways and ways to raise money for donations and for self-support.

As with any business model, lives attract sponsors interested in investing their brand in something that will bring them a return.

And that return comes through the audience that watches and interacts with the lives.

Proof that your debut or live is able to attract good results for its sponsors and partners, it is through the number of views.

Views are the main metrics adopted by sponsors to analyze whether or not it is worth investing in its content.

No one will know that you have chosen to purchase the views.

We work in complete secrecy with regard to our customers' data and purchases.

Regarding the process, our system acts in such a way that the delivery of the views appears to be organic, so that no one notices that views are purchased.

We just need you to tell us your YouTube username, from your name, you will select the video for which you want to receive views.

From there, just wait for our system to take action and fill your videos with views .

You may have noticed that the main videos to be shown on YouTube or on the Google search page are the most relevant videos for a given subject.

This relevance comes through the number of views.

So the greater the number of views your live or debut gets, the greater the chances of appearing first in Google searches and also on YouTube.

In addition to these importance, these numbers can also help you win new sponsors.

Lives allow you to interact directly with the live audience, which brings a huge engagement to your profile.

This simultaneous interaction between audience and youtuber makes fans become more familiar with their idols, thus bringing more followers and fans that fall in love with your content.

The lack of complete formality in lives allows you to create content that pleases your followers even more by showing how your work is without edits or cuts.

No. We always seek to prioritize the security and privacy of our customers.

We act according to YouTube guidelines, so that the platform rules are not violated.

Our system is enhanced to carry out the process in the most organic way possible , so that neither your followers nor the YouTube platform itself realizes that you have purchased views.

Premieres are a mix of live streaming and a traditional YouTube video.

You pre-record a video and then play it back as a live recording, with live chat as in a regular live stream.

The time your premieres will air is announced on your channel, giving viewers the opportunity to be reminded of that premiere minutes before it's posted.

After the broadcast ends, the video is published on your channel like any other video and can be accessed by anyone who missed the event.

Yes. All the views we send for your debut or your finished live will be forever in your videos.

From the moment we send the views, they will no longer be able to be removed from your videos.

All our service is guaranteed total, if you have any problems just contact us through our chat, whatsapp, email or phone.

Sure. We accept the most varied forms of payment. & Nbsp; You can pay us through cryptocurrencies (bitcoin), on the card up to 12 times, through PagSeguro, Mercado Pago, PicPay and PayPal *.

We also accept bank transfer and bank transfer ( TED, DOC and PIX). All forms of payment with the best operators to guarantee your total security when paying.